Zenkai Girl
Network
Fuji TV
Number of episodes:
11
First episode:
Original airing:
July 11, 2011 - September 19, 2011
Opening:
Ai ga Aru by Every Little Thing
Ending:
Tsubusa ni Koi by Kanjani8
Genre:
Romantic Comedy
Details
Synopsis
Devoted to becoming an international lawyer, Ayukawa Wakaba is full of ambition. Her hard work pays off when she lands a job at an international law firm, but to her disappointment, the first prestigious assignment that is given to her is to babysit the boss' 5 year old daughter, Hinata. Wakaba loathes kids and nursing, but unwillingly takes on the job as she is fixated on wealth and success. One day when she goes to a preschool to pick up Hinata, she meets a man named Yamada Sota. Sota is a man without higher education, wealth, or a future goal, someone that Wakaba absolutely cannot stand, the complete opposite of her ideals. Once again, contrary to her will, she ends up looking after Hinata and a few other kids along with Sota. Despite being exhausted from all the first-time experiences in child care, Wakaba begins to realize what is truly important to her. A heart-warming comedy about work, relationships and love. -- Fuji TV
Cast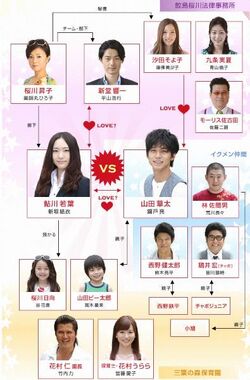 Samejima Sakuragawa Law Firm
Mitsuba no Mori Nursery School
Restaurant Ru Sato
Others
Guests
Production Credits
Episodes

Nani!?!
This article would be much better if we could read all the text. Could someone translate the Japanese writing here please?
Reason: None stated
I'll show you that a kiss doesn't lead to anything!
キスなど身に覚えがありません! 絶対に
これであの忌わしいキスの記憶も消える
あなたは私にとって災いです!
これが私の素直な気持ち? そうか私が好きな人は
正面突破でいこう! 人生初の告白だから
良い人でもイクメンでもないずるい大人なんです
父の思いに涙! 今だけ今だけはこうさせて下さい
彼女の将来のためには、君の存在が邪魔なんだ!
各々の道を行く二人! 何でだか涙が止まらなくて
感動の結末! もういっぺん己の向き合ってみろ
Recognition
Notes
External Links
References
Community content is available under
CC-BY-SA
unless otherwise noted.