S.D.B. National Police Agency Special Defense Bureau
Network
YTV
Number of episodes:
13
First episode:
Original airing:
April 4, 2014 - present
Opening:
Ending:
Genre:
police
S.D.B. National Police Agency Special Defense Bureau (, S.D.B. National Police Agency Special Defense Bureau?)
Synopsis
This world is full of vermin. Wrongdoings by ordinary people run rampant. There is a man who keeps on fighting despite lamenting about the high number of cases. He is Sohei Asakura of the Special Defense Bureau at the National Police Agency. On the outside, it seems like an easy position. However, evil that is not brought to justice is his enemy. He always says "aah, shinitai!" (Ah, I want to die) which makes everyone thinks that he's a lazy soul that's good for nothing while in the matter of fact, he punishes those who can't be punished by law by using mental pressure and humiliation to get them back on track.
Episodes
Cast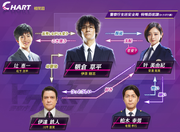 Production Credits
Based on the manga by Takahashi Hidebu
Notes
This series was made available internationally on Crunchyroll on April 4, 2014.[2]
External Links
References
Community content is available under
CC-BY-SA
unless otherwise noted.