Mendol
Network
TV Tokyo
Number of episodes:
12
First episode:
Original airing:
October 10, 2008 - December 26, 2008
Opening:
Relax! by No Sleeves
Ending:
Ogoe Diamond by AKB48
Genre:
Mendol (メン☆ドル, Mendol?), with the tagline "Good-looking Idol", is a drama about 3 girls who are aspiring idols, but struggle with auditions.
Synopsis
The story revolves around three ordinary girls named Asahi, Nami, and Hinata who are aiming to become idols, but they repeatedly fail in their auditions. One day, they witness a serious crime, and they are forced to flee from the culprits. Fortunately, they are saved by a producer who is willing to let them debut, but they have to hide their true identities and dress up as boys instead. [1]
Cast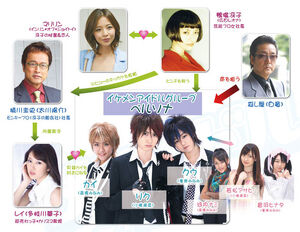 Production Credits
External Links
References
Community content is available under
CC-BY-SA
unless otherwise noted.