Aoi Honoo
Network
TV Tokyo
Number of episodes:
11[1]
First episode:
Original airing:
July 18, 2014-
Opening:
Ending:
Genre:
adaptation of autobiographical manga
Aoi Honoo (アオイホノオ, Aoi Honoo?, Blue Blazes) is a Japanese drama based off the manga of the same name by Kazuhiko Shimamoto.
Synopsis
Set in the early 1980s in Osaka: Moyuru wants to become a manga writer. He lives the life of a first-year student at a large arts university in Osaka. He has unfounded confidence in his abilities, but also a passionate interest in the anime industry. He debates which path he should take into the industry. He reaches a decision just before the summer break to take his manga manuscript to Tokyo publishers. This is the start of excruciating anguish for Moyuru.
Cast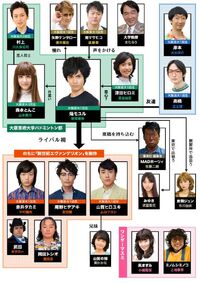 Crew
Episodes
Notes
External Links
References
Community content is available under
CC-BY-SA
unless otherwise noted.