Ando Lloyd
Network
TBS
Number of episodes:
10
First episode:
I will protect you forever!
Original airing:
October 13, 2013 - December 15, 2013
Opening:
Your Eyes by Takeuchi Mariya
Ending:
Genre:
Sci-Fi, romance
Ando Lloyd (安堂ロイド, Ando Lloyd?) is a science-fiction, romantically-themed drama. It has a tagline of A.I. knows LOVE?
Synopsis
Matsushima Reiji is a genius physicist who studies wormhole theories. One day, Reiji is killed. It is unknown whether his research on wormhole theories caused his death or not. His fiancée Ando Asahi is a capable career woman working at a large IT company. After Reiji's death, somebody is trying to kill her. Lloyd, who looks exactly like Reiji, suddenly appears in front of her. Lloyd came from the year 2113. His mission is to protect Asahi from any harm. Without Asahi's knowledge, Lloyd fights to protect her. Lloyd doesn't know what "love" is and doesn't understand human anger or sadness. At first, Asahi doesn't like Lloyd, but slowly her feelings start to change. [1]
Cast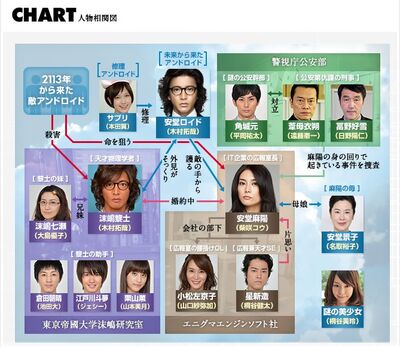 Main Cast
Guests
Crew
Episodes
Notes
External Links
References
Community content is available under
CC-BY-SA
unless otherwise noted.